Conceived, designed and engineered under three strict brand guidelines: Quality, Durability and Reliability.
Hino undertakes extensive 'real life' testing of their trucks in both challenging and arduous driving conditions. It is this, along with design excellence and the outstanding engineering of parent company, Toyota, that is reflected in every Hino vehicle.
Visit us at Wagga Trucks to see the range.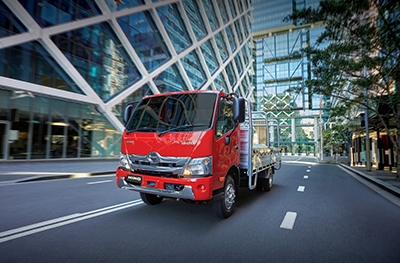 HINO 300 light duty
With more than 60 models, the Hino 300 series is leader in safety, power and efficiency.
● Car Licence models available
● Vehicle Stability Control Standard across all models
● Built to Go Models available
● Fully Automatic models available
HINO 500 medium duty
Offering customers more than just standard safety inclusions, legendary fuel and operating efficiency and more than 100 models available.
● 11,000kg to 26,000kg GVM variants
● 4x2, 4x4, 6x2 and 6x4 axle configurations with air and leaf suspension options
● True Automatic models available
● Boasts the most comprehensive active
safety package across all on-road models
● Built to Go models available
HINO 700 heavy duty
Winning over heavy truck buyers with it's class, comfort, reliability and affordability.
● GCM ranging from 45,000kg – 72,000kg
● 440 – 480 Horsepower
● Fully Automatic models available
Interested in finding out more information?
Contact our onsite team to discuss your requirements.